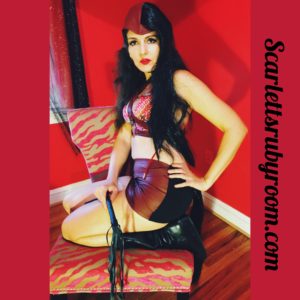 Bondassage/ Kink Play
Scarlett is professionally trained to teach you and your partner how to open your minds to something a little different and more creative.  Join Scarlett on this incredible journey of sensations.  You will learn about therapeutic massage with some light BDSM elements, using different techniques and light submission, such as pinching or spanking, instead of full-on bondage.
Before you think this is just for people who like kink, keep an open mind. Scarlett teaches you soft, gentle and tantalizing moves. The receiver is the main focus, and it's all about pleasure and bringing you to a new level of enjoyment in your body, not controlling you. So basically, anyone can do it and enjoy it.
Scarlett entertains you with the best of both worlds: you learn the value of touch, the kinkiness of bondage, and how to awaken desire and flow energy.
Scarlett reminds us to slow down and really enjoy bodily sensations.  It's about taking the time to find what makes us tick and trying new things that can provide different pleasure that you didn't know you could experience.
If you're always sticking to the same old erogenous zones to touch and kiss, it can get old fast.  Scarlett explains how to  look for new and exciting pleasure zones on your body that can be reached through massage.
If you've ever been tempted to try BDSM, such as after reading 'Fifty Shades of Grey', but were a little frightened about the pain element to it, Kink Play/ Bondassage with Scarlett is a great way to ease into it.
Scarlett's main focus is educating you how to appeal to all of your senses.
You will learn about sensory deprivation tools such as blindfolds and earphones to help you more easily escape the worries and stress of your job and life.  The only thing to then concentrate on is the present moment.
Even if you've never been into the idea of bondage or whips, Scarlett can help you to see that there's another world beyond BDSM to be explored. It's not just about being submissive but actually allowing your partner to treat you like a sex god.
 It's not always easy for men to be on the receiving end of pleasure or to make themselves submissive, but learning with Scarlett is the perfect way to make this happen in a less hectic way than full bondage. She can't wait to meet you.
Bondassage/ Kink Play: $300 an hour with a $50 deposit required through Paypal.  Please use the contact form to schedule your appointment.